Notre Dame Admissions Visiting Austin
---
Date/Time :
Tuesday, 1 Oct 2019 - 7:00pm - 9:00pm |
Add To Your Calendar
Location :
KIPP Austin Collegiate Gymnasium, 8004 Cameron Road, Austin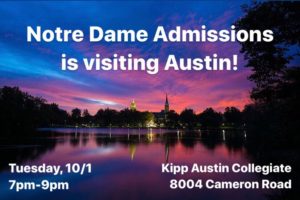 Mark your calendars – Notre Dame Admissions is coming to Austin!
Tuesday, October 1st
7pm-9pm
KIPP Austin Collegiate Gymnasium
8004 Cameron Road
Austin, Texas 78754
Monica Newland, Senior Assistant Director of Admissions for ND who covers Texas, will be presenting along with representatives from Emory University, Johns Hopkins University, and Washington University in St. Louis.
Learn more about academic programs, student life, admission, and financial aid at the University of Notre Dame! There will be time for questions and to meet with Monica at the end.
Find more details and register HERE
See other similar upcoming events:
Featured Future Events
,
Young Alumni
,
Continuing Education
,
Current Students