Welcome
The ND Club of Austin is the official home for Notre Dame friends, family, and alumni in the Central Texas area. The ND Club of Austin's mission is driven by Camaraderie, Catholic / Christian Spirituality, Communications, Community Service, Continuing Education, and Current Students.
We encourage you to join us at our upcoming events to connect with the Notre Dame and Austin communities. Please contact the Club for more information or subscribe to our newsletter (on the right) to stay up to date.
Don't feel like being very involved, but still want to donate $ to the club (tax deductible), you can do so here.
Want to be notified of upcoming events? Subscribe to our email list (on the right).
The Club In Action
Featured Events

Notre Dame Day is fast approaching!
More than 900 University groups are competing for a share of the $1.2 million challenge fund.
The annual global celebration of all things Notre Dame is scheduled for April 28-29, and our current and future ND Club of Austin students need your support!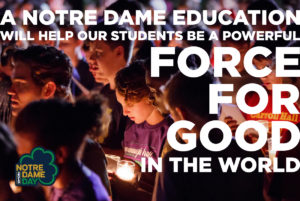 Early voting for

#

NDday

starts TODAY!
Go to the ND Club of Austin's page on the Notre Dame Day website:
Make a $10 gift, and cast your votes for the ND Club of Austin!
All of the money our club receives through Notre Dame Day will go directly into our club scholarship fund, so the more votes for our club, the more our local students will benefit!
Come out and support the Notre Dame Women's D 1 Rowing Team compete with UT and other elite women's rowing teams at the Longhorn Invitational out on Decker Lake on April 27, 2019

The Event is Free, let us know if you can attend
Click on image or here for more information.