Welcome
The ND Club of Austin is the official home for Notre Dame friends, family, and alumni in the Central Texas area. The ND Club of Austin's mission is driven by Camaraderie, Catholic / Christian Spirituality, Communications, Community Service, Continuing Education, and Current Students.
We encourage you to join us at our upcoming events to connect with the Notre Dame and Austin communities. Please contact the Club for more information or subscribe to our newsletter (on the right) to stay up to date.
Want to be notified of upcoming events?  Subscribe to our email list (on the right).
The Club In Action
Featured Events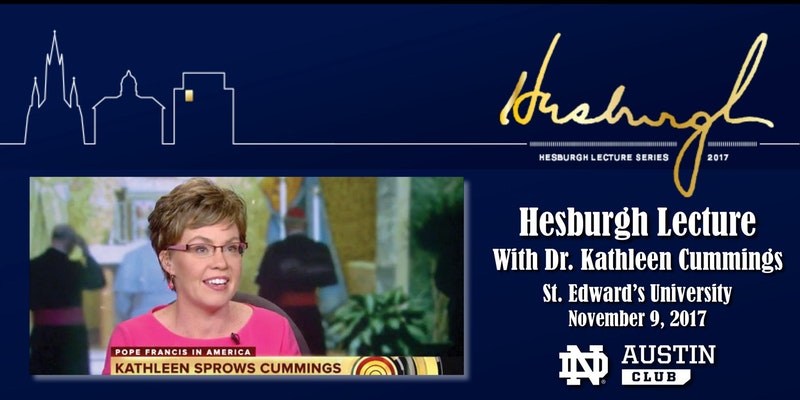 The Notre Dame Club of Austin is proud to welcome noted author, speaker and educator, Dr. Kathleen Cummings, to our annual Hesburgh Lecture. She will discuss "Pope Francis and the American Saints: Immigration and Evangelization in U.S. History."
Dr. Cummings serves as the William W. and Anna Jean Cushwa Director of the Cushwa Center for the Study of American Catholicism at Notre Dame and President of the American Catholic Historical Association.
This free event is open to the public.  Please sign up here.
When: Thu, November 9, 2017 6:30 PM – 8:00 PM CST
Where: St. Edward's University,  3001 South Congress Avenue, Fleck Hall, Room 305,  Austin, TX 78704