Welcome
The ND Club of Austin is the official home for Notre Dame friends, family, and alumni in the Central Texas area. The ND Club of Austin's mission is driven by Camaraderie, Catholic / Christian Spirituality, Communications, Community Service, Continuing Education, and Current Students.
We encourage you to join us at our upcoming events to connect with the Notre Dame and Austin communities. Please contact the Club for more information or subscribe to our newsletter (on the right) to stay up to date.
Want to be notified of upcoming events?  Subscribe to our email list (on the right).
The Club In Action
Something is wrong.


Instagram token error.
Featured Events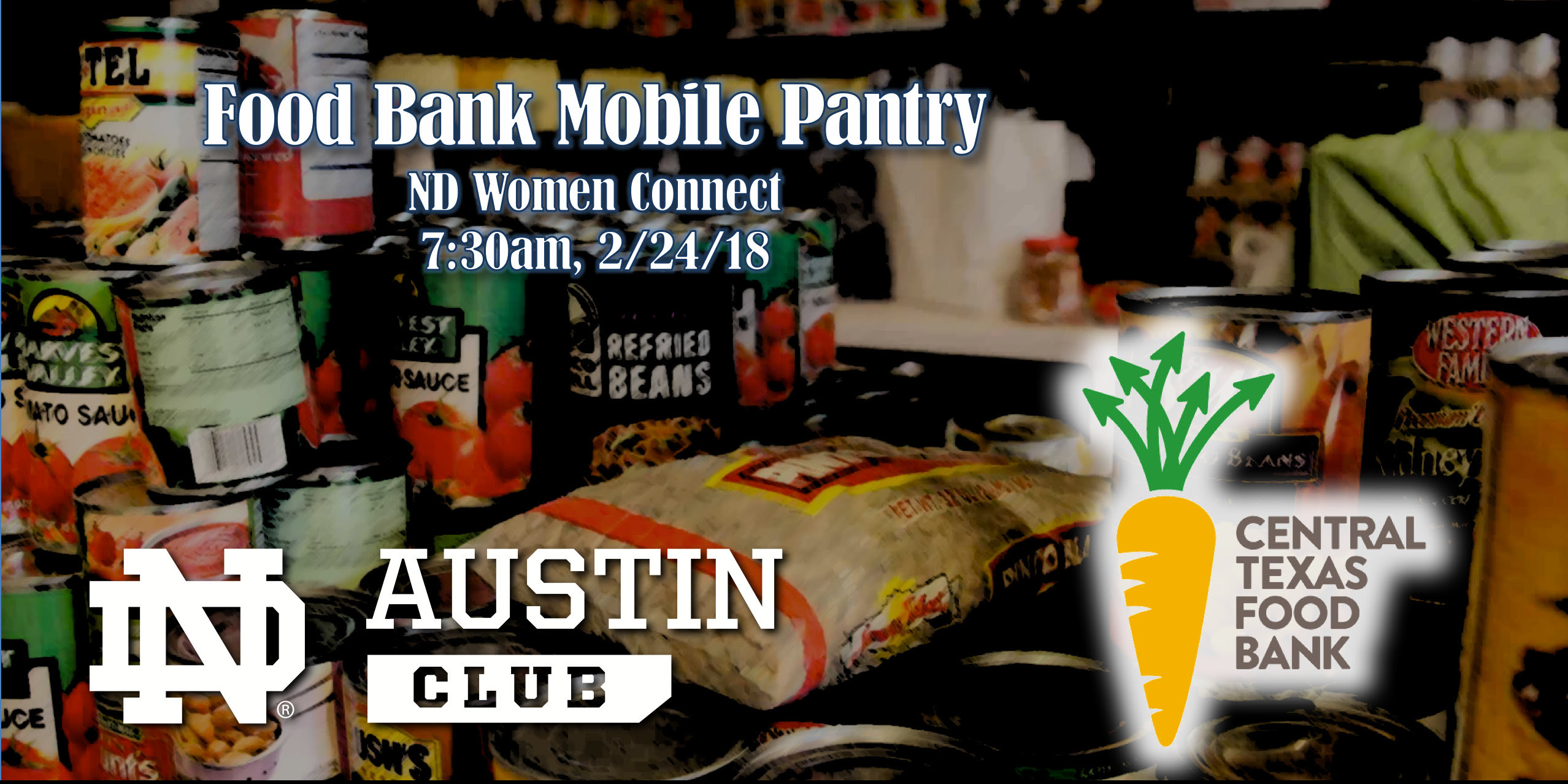 Come out and help your neighbors in need during this CTFB Mobile Pantry at the Given's District Park. The Club has been once before to this location, and all volunteers had a great time meeting clients, Food Bank team members and other volunteers.
All volunteers must register for this event directly with the Foodbank using this link. You will need to create an account to register. Please use Eventbrite just to let me know you have signed up so I can have awareness if we have filled the spots I reserved for our group. Thanks in advance!
http://notredamewomenconnect.cafb.volunteerhub.com/
Please see these additional notes from the Central Texas Food Bank (CTFB). All participants must arrive on time and stay for the entire shift. Volunteer orientation and training will take place at the beginning of the shift. Our "Wheels of Sharing" Mobile Food Pantries travel to fill geographic and service gaps in emergency food assistance. The responsibilities of Mobile Pantry volunteers include: unload food and tables from the truck, package and distribute food to clients, help with break-down and clean-up and assist clients with carrying food to their vehicles. Dress comfortably and for the weather. Please wear sneakers, tennis shoes, or work boots. For safety purposes, sandals, flip-flops and other shoes with open toes or heels are not permitted. Hats, sun block, sunglasses and loose clothing are recommended during summer months. The distributions occur outside and will continue in inclement weather, unless doing so would present a danger to volunteers and clients. All volunteers age 8-17 must be accompanied by an adult.
This is a rain or shine volunteer opportunity; however in the event of inclement weather, we will immediately update our Mobile Pantry hotline – 512-684-2559.