Welcome
The ND Club of Austin is the official home for Notre Dame friends, family, and alumni in the Central Texas area. />The ND Club of Austin's mission is driven by Camaraderie, Catholic / Christian Spirituality, Communications, Community Service, Continuing Education, and Current Students.
We encourage you to join us at our upcoming events to connect with the Notre Dame and Austin communities. Please contact the Club for more information or subscribe to our newsletter (on the right) to stay up to date.
Want to be notified of upcoming events?  Subscribe to our email list (on the right).
Featured Events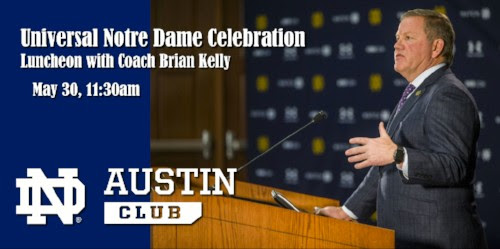 Coach Kelly is coming to Austin!
The Notre Dame Club of Austin is one of only four ND Clubs chosen to host Coach Brian Kelly as a Universal Notre Dame Celebration luncheon speaker this year.
Join us at the Westwood Country Club on May 30th to reconnect with the ND Family over an an elegant three-course seated lunch and enjoy hearing Coach Kelly speak then answer audience questions.To raise money for our Scholarship Fund, we'll conduct a silent auction featuring autographed footballs, football tickets, and other valuable items from our sponsors.
*Please note: There is an age restriction for this event. NCAA regulations strictly prohibit attendance by anyone between the ages of 13 and 19. Thank you for your understanding.*
If you're interested in sponsorship opportunities for the luncheon, please contact Lisa Gutilla at lisa@ndclubofaustin.com.
Wednesday, May 30, 11:30 am