NDWC Shared Read Fall 2019
---
Date/Time :
Tuesday, 22 Oct 2019 - 8:00pm - 9:30pm |
Add To Your Calendar
Location :
, ,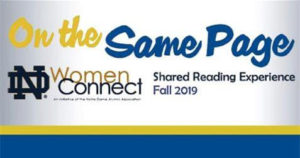 We hope you'll join ND Women Connect (NDWC) of Austin and women across the globe in the NDWC Shared Read Fall 2019 as we unpack Educated: A Memoir by Tara Westover (2018).
The local Austin group meet-up is set for Tuesday, October 22nd at 8pm. We'll be hosted by Liz, who lives in NW Austin, near 183 and McNeil Dr.
Please RSVP for the local discussion via email to Nancy. We'll send Liz's address out to those who think they can join us!
Also, please feel free to email Nancy with any questions or comments about this event.
Happy reading!
See other similar upcoming events: