ND Women's Basketball Final Four Game Watch
---
Date/Time :
Friday, 5 Apr 2019 - 8:00pm - 11:00pm |
Add To Your Calendar
Location :
BD Riley's, 204 E 6th Street, Austin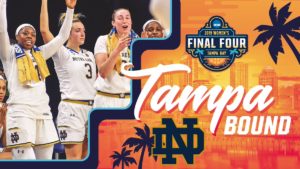 Did y'all honestly think this year would be different? It's time for Notre Dame v. UConn MMXIX, Part II!
To repeat as National Champs, as we did last year, we will have to face UConn in the National Semifinals.
The ND Club of Austin will be hosting a watch party this weekend for the Women's Final Four. Both parties will be at BD Riley's Downtown location, at E 6th St. and Brazos.
Game time tip off for Friday night, April 5th will be at 8:00 pm.
When (not if!‬) we win, the Championship Game will be Sunday night, April 7th at 6:00 pm.
The possible matchup here is No. 1 overall seed and this season's juggernaut, Baylor, or Oregon, the NCAA's version of the three-point shooting Golden State Warriors.
Note – BD Riley's has a parking deal with the Littlefield Garage (entrance on Brazos, just south of 6th). Just bring your parking ticket to the Bar for a validation. Also, Sundays are free parking downtown, so if you park on the street, no need to pay (or get a validation).
See other similar upcoming events:
Featured Future Events
,
Young Alumni
,
Camaraderie
,
Current Students
,
Senior Alumni
,
ND Women Connect