Mariachi Mass
---
Date/Time :
Sunday, 24 Nov 2019 - 1:00pm - 2:00pm |
Add To Your Calendar
Location :
St. Ignatius Martyr Parish, 126 West Oltorf Street, Austin, TX 78704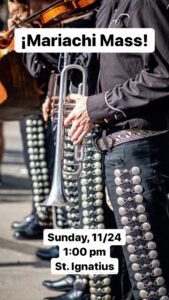 Join us for a Mariachi Mass on Sunday, November 24th at 1pm at St. Ignatius, Martyr!
We will enjoy mariachi music, and Mass will be celebrated in Spanish.
All are welcome; Todos son bienvenidos!
See other similar upcoming events:
Featured Future Events
,
Catholic & Christian Spirituality
,
Diversity