Young Alumni: Coffee at Mozart's
---
Date/Time :
Wednesday, 10 Dec 2014 - 7:00pm - 10:00pm |
Add To Your Calendar
Location :
Mozart's Coffee Roasters, 3825 Lake Austin Blvd, Austin, TX 78703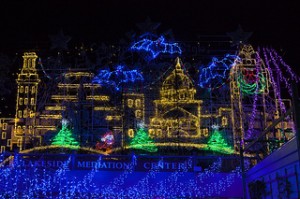 Wet weather could not keep the Irish Young Alumni indoors this past Wednesday. Around a dozen friends met Wednesday evening to enjoy some hot coffee, chocolate cake, and the Christmas light show at Mozart's Coffee Roasters. Songs for the evening consisted of the classic Ylvis song "The Fox (What Does the Fox Say?)" and a beautiful rendition of "I'm Proud to be an American". The Young Alumni would like to wish everyone Happy Holidays!
===
Join the ND Club of Austin Young Alumni at the famous Mozart's Cafe. Around the holidays, Mozart's puts on a one of a kind light show to wow and dazzle. Check out some of the awesome pictures here – https://www.flickr.com/photos/mozartscoffee/with/15876571032
Please RSVP here http://mozarts2014.eventbrite.com
See other similar upcoming events:
Camaraderie