Juntos/Together: Black & Brown Activism in Austin, Texas,1970 – 1983
---
Date/Time :
Saturday, 3 Mar 2018 - 10:30am - 1:30pm |
Add To Your Calendar
Location :
, ,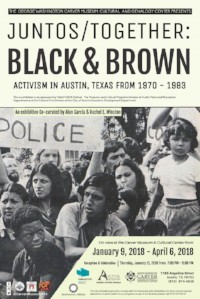 Join fellow club members at the Carver Museum to learn about activism in Austin the 70s and 80s.  This exhibition is co-sponsored by the FotoATX2018 Festival, The Museums and Cultural Programs Division of Austin Parks and Recreation Department and the Cultural Arts Division of the City of Austin's Economic Development Department.
To RSVP email Amy Ybarra so she knows how many people to expect.  She will meet you outside the venue at 10:30 wearing, of all things, an ND t-shirt!
See other similar upcoming events:
Diversity