Monthly Leadership Meeting – All Welcome
---
Date/Time :
Saturday, 12 Aug 2017 - 10:00am - 12:00pm |
Add To Your Calendar
Location :
Hampton Branch of Austin Public Library, 5125 Convict Hill Road, Austin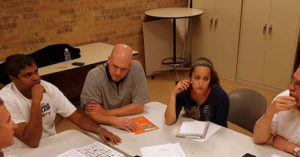 The Club's monthly meetings are a great way to begin getting involved with the Club and to meet other Domers who are passionate about carrying out the ND mission in Austin.
We'll discuss all Club matters – leadership development and participation, finances, planning, upcoming events and more.
All are welcome to attend, so please join the Club's leaders for a couple of hours.
See other similar upcoming events:
Leadership Meetings