Irish Cultural Event
---
Date/Time :
Thursday, 6 Apr 2017 - 6:30pm - 8:30pm |
Add To Your Calendar
Location :
Consulate General of Ireland, 515 Congress Avenue – Suite 1720, TX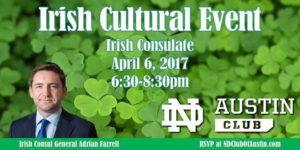 We may call ourselves the Fighting Irish, but we could all stand to learn a bit more about the nation that inspired the nick name we wear so proudly. Join your fellow members of the Notre Dame family for an evening at the Irish Consulate in downtown Austin featuring a presentation on the real Ireland from Consul General Adrian Farrell and refreshments. Ranging from the events of the Easter Uprising some 101 years ago to the Brexit conversation, you'll find out about the nation's remarkable history and underpinnings of its current economic strength. Only a limited number of tickets are available, so make your reservation today!
See other similar upcoming events:
Camaraderie
,
Continuing Education