UND Night with Professor Carl Ackermann
---
Date/Time :
Thursday, 22 May 2014 - 6:00pm - 8:30pm |
Add To Your Calendar
Location :
The Headliner's Club, 221 West 6th St., Austin, TX 78701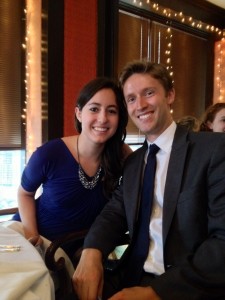 RECAP:
Our 2014 UND Night with Professor Carl Ackermann was a huge success in participation and presentation. This year, our club filled the Headliner's Club to capacity, a top the Chase Bank tower in downtown Austin. Cocktails began an hour before dinner, and we had numerous alumni turn out an hour before that. Business cards were distributed, friends reacquainted, and warm cheer all around.
When Professor Ackermann took the stage, however, our club was in for a presentation atypical of years past. Professor Ackermann first shared pictures of current and past students with our club, and capped it off by sharing his thoughts on what it means to be a Notre Dame student in 2014. What stood out, however, was that Carl remembers every student he's ever taught by face and name. Numerous times during the presentation he recounted stories of alumni in the room whom he'd not seen in nearly a decade.
The presentation demonstrated the amazing relationship Notre Dame students and faculty share. The University of Notre Dame and the Mendoza College of Business are topped ranked institutions because of the focus on relationships and ethics that guides curriculum and student life. Thank you for joining us, Professor. We're proud to have hosted you on your first trip to Texas. I'm sure it won't be your last!
—
The ND Club of Austin is excited to announce our 2014 UND Night Speaker: Carl Ackermann! Carl will give us a State of the University address, with breaking updates from the administration about current and new initiatives.
About the Speaker
Carl teaches financial management and personal finance to University of Notre Dame undergraduates. At Notre Dame, he has received several awards for his teaching and service. In 2012, BusinessWeek named Carl one of the top 10 favorite business professors nationwide.
We are honored to have Carl as our speaker this year and invite you all to share an evening with family, friends and alumni!
Tickets are $50 for dues paying alumni – Order your tickets at this EventBrite page
For more information, visit the EventBrite page or visit this page.
See other similar upcoming events: