Army @ ND Game Watch
---
Date/Time :
Saturday, 12 Nov 2016 - 2:30pm - 6:00pm |
Add To Your Calendar
Location :
B.D. Riley's Irish Pub, 204 E. 6th St., Austin, TX 78701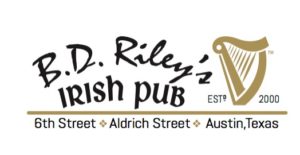 Join alumni, friends, John, Steve, and the entire BD Riley's family at their traditional Irish pub.
We'd love to see you attend the game watches, and if you'd like to get a little more involved with the Club, but aren't sure how to go about it, a great first step is to volunteer to help out at the game watches. To do so, click here to sign up, and we'll contact you with more information.
Park in the Southwest Tower parking Garage. This is the only parking garage on 7th street between Brazos and San Jacinto Streets. Enter from the south side of 7th street. When you bring your parking ticket in, the wait staff will give you a credit on food and drinks equal to the cost of parking.
We are still running our famous "Guess the Score" and "Notre Dame Halftime Trivia" games. For each of these games, the winner gets gift cards and merchandise.
We look forward to seeing you and your family this Saturday.  Go Irish!
See other similar upcoming events:
Camaraderie