Hesburgh Lecture: The Changing American Voter in 2016
---
Date/Time :
Thursday, 15 Sep 2016 - 6:30pm - 9:00pm |
Add To Your Calendar
Location :
St. Edwards University – Ragsdale Center – Mabee Ballroom A, 3001 S Congress Ave, Austin
The Notre Dame Club of Austin is proud to host, along with St. Edward's University, Professor Luis Fraga as he presents this year's Hesburgh Series Lecture. The year's topic, "The Changing American Voter in 2016 and Beyond," has special relevance in an election cycle full of evolving dynamics that may determine the shape of American politics for future decades. Please plan to join us at St. Edward's University the evening of September 15th. This event will be free of charge.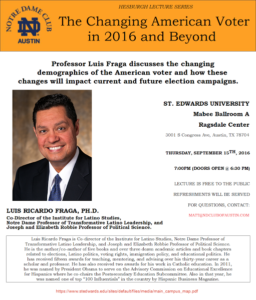 See other similar upcoming events:
Featured Future Events
,
Continuing Education