Quarterback Club
---
Date/Time :
Tuesday, 4 Sep 2018 - 11:30am - 1:30pm |
Add To Your Calendar
Location :
Rudy's BBQ, 2451 S Capital of Texas Hwy, Austin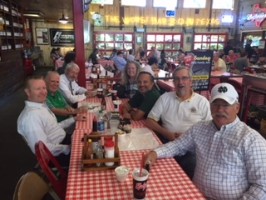 Next week's ND QB Club will meet on Tuesday, September 4 due to the Labor Day holiday on Monday.  You're invited to join a regular Monday lunchtime discussion of all things Notre Dame with your fellow ND fans. Just enter Rudy's 360, buy your lunch in the line then pull up a chair at the table closest to the door.   Go Irish!
Tuesday, September 4,  11:30 am
Contact: Tim Miller
See other similar upcoming events:
Camaraderie