St. Louis Parish Farm Service Project
---
Date/Time :
Saturday, 8 Sep 2018 - 8:00am - 12:00pm |
Add To Your Calendar
Location :
St. Louis Farm, 2100 St Joseph Blvd, Austin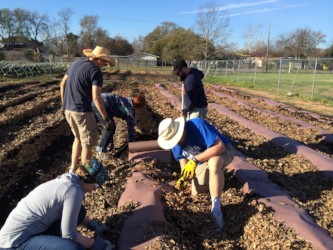 Click here to RSVP.
Put on your dungarees and get your hands dirty as the club helps prepare the St. Louis Parish farm for its fall planting.  Feel free to come for part or all of the morning (8 – noon). The parish will provide breakfast tacos, water, Gatorade, fruits, and snacks, as well as tools and gloves. Wear clothes and shoes you don't mind getting dirty. A water bottle is handy, though we'll have cups too.
The work consists of raking out the grass/weeds which we've solarized, mixing in compost, forming rows, laying out weed barrier, and covering all with mulch.
The garden is located on the southeast corner of St Louis King of France Church. The gate to enter the garden is on the 2100 block of St Joseph's Blvd.
See other similar upcoming events:
Community Service