A Wrinkle in Time
---
Date/Time :
Friday, 24 Aug 2018 - 7:30pm - 10:00pm |
Add To Your Calendar
Location :
Community First Village, 9301 Hog Eye Rd, Austin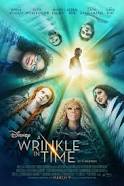 ND Women Connect will host a screening of A Wrinkle in Time at Community First Village 9301 Hog Eye Rd Austin, TX 78724
The free movie night is held at Mobile Loaves & Fishes' Community First! Village. Grab chairs and a blanket, bring family and friends and enjoy this special screening. Come explore Community First! Village, pick your spot, and enjoy your favorite movie snacks from the Community Grille.
See other similar upcoming events:
ND Women Connect