Game Watch – Frozen Four Hockey
---
Date/Time :
Thursday, 5 Apr 2018 - 8:30pm - 10:30pm |
Add To Your Calendar
Location :
BD Riley's, 204 E 6th Street, Austin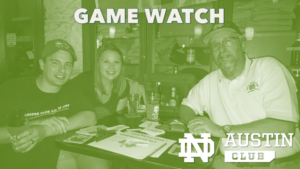 Come to B.D. Riley's Thursday, April 5, to cheer on the Irish with your newest, bestest hockey friends, and, well, have a few of those glorious and legendary Irish stouts while you're at it (you know exactly what I'm talking about)!
Thursday, April 5, 2018 – B.D. Riley's, 204 East Sixth Street.  Puck Drop is at 8.30 PM. Note: B.D. Riley's now has validated parking – Park at the Littlefield Garage (across Sixth Street from the Driskill Hotel, entrance on Brazos) and bring the parking ticket to the bar.  There will also be drink specials during the game for ND Fans (Wolverines will have to pay twice the listed price).
Email Charles Miller and join him at B.D. Riley's!
Thursday, April 5 at 8:30 pm
See other similar upcoming events: