Beyond Bollywood
---
Date/Time :
Saturday, 7 Apr 2018 - 10:30am - 12:00pm |
Add To Your Calendar
Location :
Asian American Resource Center, 8401 Cameron Road, Austin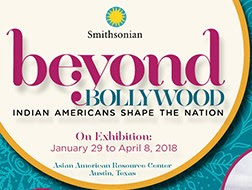 Beyond Bollywood
Indian Americans Shape the Nation Exhibit (Smithsonian traveling exhibit) at the Asian American Resource Center. Explore the heritage, daily experience, and numerous, diverse contributions that Indian immigrants and Indian Americans have made in shaping the United States.
Contact Amy Ybarra with questions.
See other similar upcoming events:
Diversity