Veteran's Day Service Event at Ronald McDonald House
---
Date/Time :
Wednesday, 11 Nov 2015 - 10:00am - 1:00pm |
Add To Your Calendar
Location :
Ronald McDonald House, 1315 Barbara Jordan Blvd., Austin, TX, 78723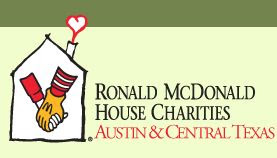 Please join fellow Club members in preparing a meal for the families at the Ronald McDonald House here in Austin. Volunteers will coordinate the menu, buy all ingredients, and then prepare the meal (lunch) on site at RMHC on 11/11/15. We will need to have lunch ready by noon, and we should plan to feed 10-15 people. Most groups arrive an hour before meal time, but we can arrive earlier if needed, so we'll plan to get started around 10AM. Nancy will coordinate the menu via email with those who Reserve a Spot to help.
Please reserve your spot here.
Additionally, we would like to contribute to the Ronald McDonald Wish List. It can overlap with the meal preparation event described above  – you can read about that event here.
See other similar upcoming events:
Community Service