Capital Area Food Bank – Mobile Pantry
---
Date/Time :
Saturday, 22 Aug 2015 - 7:30am - 10:00am |
Add To Your Calendar
Location :
Givens Recreation Center, 3811 E. 12th Street, Austin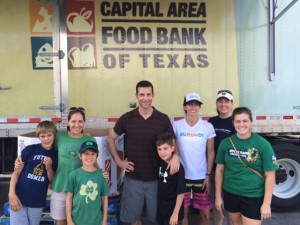 RECAP:
The CAFB Mobile Pantry event on August 22nd was a great success! Nine ND friends and family worked with other volunteers to greet and serve neighbors in need in East Austin. Held at Givens Park, the mobile pantry provided clients with yogurt, cherries, onions, potatoes, juice, milk, canned goods, bread and more. Volunteers enjoyed visiting with the clients and the enthusiastic CAFB staff. ND alum Karen Shopoff Roof, summed up the impact community service can have when she shared the following.
"The boys were surprised by how fast the time went by, how good it felt to help others, and we've had lots of good discussions about the importance of doing our share to serve our local community. There aren't a lot of volunteer opportunities where kids can see directly and interact with the people they are serving. It was a powerful experience for us. They were especially impressed by how many folks came through the line and wanted to take things to share with neighbors and relatives– such an important lesson in sharing what you have, even when you may not have a lot." – K.S.R.
We hope you and your family will join us for another event soon!
---
This early Saturday morning event will be a perfect fit for the early risers! Since we will finish around 10 AM, I suggest we follow-up with breakfast at a local Austin establishment. So, please bring your enthusiasm and suggestions. The CAFB Mobile Pantry is a great way to help our neighbors in need and it gives you the opportunity to meet clients face to face and work closely with the Food Bank team members and other volunteers.
Volunteers help unload food and tables from our trucks, set up and break down the distribution and assist clients through the distribution line. The mobile food pantry distributions are outdoors, so please dress for the weather.
Please see these additional notes from the Capital Area Food Bank (CAFB). All participants must arrive on time and stay for the entire shift. Volunteer orientation and training will take place at the beginning of your shift. Dress comfortably and for the weather. Please wear sneakers, tennis shoes, or work boots. For safety purposes, sandals, flip-flops and other shoes with open toes or heels are not permitted. Hats, sun block, sunglasses and loose clothing are recommended during summer months. The distributions occur outside and will continue in inclement weather, unless doing so would present a danger to volunteers and clients.
Youth are welcome to volunteer at the Food Bank! We accept volunteers as young as 8. There must be an adult 21 or older for every 5 youth volunteers between the ages of 8 and 17.
Please reserve your spot here.
See other similar upcoming events:
Community Service