NDCoA TEAM
In addition to the incredible support that the ND Club of Austin receives from alumni in Austin, friends and partner organizations, primary management is voluntarily provided by the team shown below. The Club encourages you to participate in any way that you prefer – all involvement is welcome. Subscribe to our newsletter (on the right), come to an event, or visit during our next Club meeting.  Please email the Club at info@NDClubOfAustin.com if you're interested in a particular open role, team or even area that's not on the chart.
Current Organization and Openings
(click to enlarge)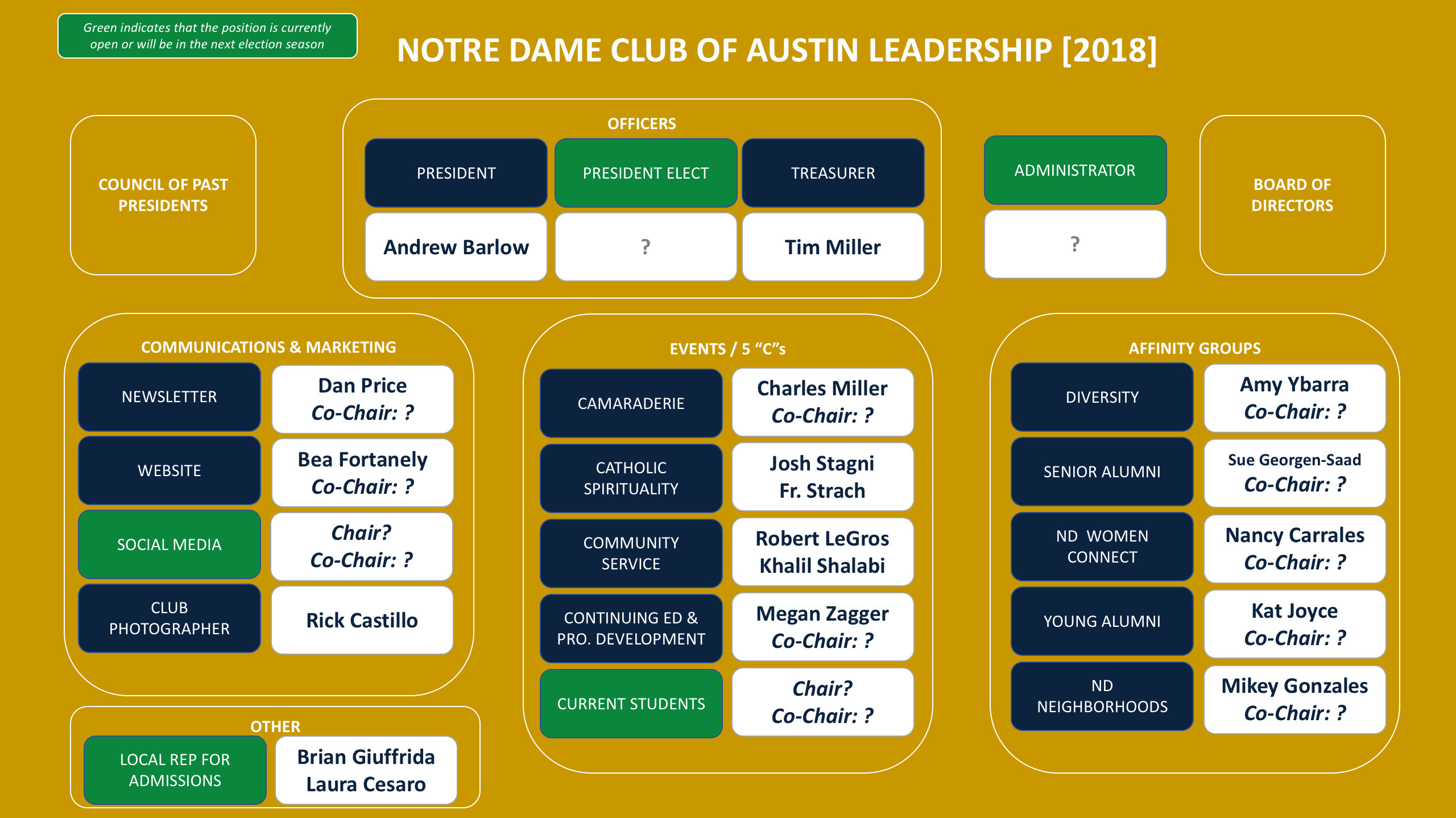 Descriptions of Open Positions
Email us if you're interested in helping.  If you're interested in a position that currently filled, that's OK too – you can be a member of that team.  In the ideal buddy system, everyone in a leadership position will have a Club member serving as backup to spread the workload and step in, in the event of schedule conflicts, travel, family commitments, etc.   Our Two in the Box system presents a great opportunity for Club members to learn about the inner workings of the Club and ease into leadership roles if that is of interest.  Buddies can also serve by simply supporting leaders with scheduling, phoning,  emailing and other routine tasks.

Communications Team: Social Media Coordinator
Affinity Group: Senior Alumni Coordinator
Local Admissions Representative
Club Administrator
The Club has so much going on that leadership needs a diligent, extremely organized person to help keep the Club moving forward with optimal efficiency. Take a look at some of the responsibilities below and give us a holler if you'd like to help.
Schedule monthly club meetings and facility reservation
Inform officers of deadlines for reports, mailings, and future commitments
Maintain club membership roaster
Coordinate mailing of notices/newsletters to area alumni
Maintain a roster of officers and other board members with current address, including email, and telephone information
Maintain complete and up-to-date copies of the club's bylaws and other organizational documents